Our Green Home
It's Easy Being Green
Our Green Home is Certified by the Green Business Network and is a GreenCheck® Provider with Sierra Club Green Home.
Our Green Home is also a proud member of Do It Green Minnesota
We are Gary & Peggy DeVaan, a couple in their mid-fifties living in Hopkins, Minnesota.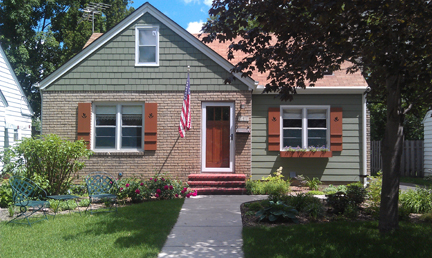 Peggy has been a child care provider for 25 years. A part of her curriculum involves teaching children to be green through the 3 R's, water conservation and composting. Teaching each and every child the importance of saving the earth's resources became a focal point at Peggy's Child Care.
Gary is a Graphic Artist and IT technician at a local nonprofit organization.
We are committed to the need to use our earth's resources more efficiently and responsibly. Like you, we do what we can to lessen our impact on our natural resources, Gary drives a hybrid car and Peggy works at home. We are rabid recyclers, we compost, and we do everything we can to avoid using petroleum products, paper, plastic and electricity.
Our modest store is our attempt to do more by helping people like you find simple ways to conserve our resources and save a little money.
Our mission at ourgeenhome.co is to become your most trusted source for green products, offering quality products that are environmentally responsible, work well and provide value.
We believe that the power to make change rests with the individual consumer. The products you buy every day make a difference. Eco-friendly products are healthier for you and better for the planet. In addition, when a large group of consumers choose to "buy green", the market will respond with greater variety, more innovation and lower prices for green products and services.
We will conduct business in a socially responsible manner that safeguards the earth.
What are "Green" Products?
While there may be some grey areas and other facts can be considered, our products conform to at least one of the following criteria. All of our products will help you save energy, water, paper, or plastic, or are made from recycled material, renewable material, or are biodegradable.
Every product we sell has a "Why it's Green tab below the description so you can understand how an item can help you Green Your Home. Below are some of the qualities we look for when selecting products.
Whether it's fossil fuels, nuclear, solar, wind or other renewable energy, it is expensive to develop. Saving energy generically will save you money and in most cases protect the environment. Save Electricity! Products with this icon will help you save electricity. Keep coal burning to a minimum, stop the acid rain and mercury poisoning of our environment. Conserve our non-renewable resources and help with our energy independence. Not to mention you will save money.
It doesn't matter if you have natural gas, LP gas, fuel oil or electric heat, saving heat will you will save money. Fossil fuels are expensive and they are limited. They will not last forever, they may not last until the end of the century.
You may live in the dessert, you may live near the great lakes, water is a valuable commodity and is threatened by more polution and climate change every day. Less than 1% of all the water on Earth can be used by people? The rest is salt water. As our population grows, more and more people are using up this limited resource.
While paper is to some degree a renewable resource, it still takes more energy, water, and chemicals to manufacture new paper than it takes to recycle paper into new products. Anything we can do to save paper will help reduce the amount of trash going into landfills. Perhaps most importantly, when we save paper, we reduce the need to cut down trees to make new paper.
Plastic is not made from anything renewable. Plastics require 100 to 400 years to break down in a landfill. Recycling 1 ton of plastic can save 1-2 thousand gallons of gas. Of the more than 200 billion pounds of plastic the world produces each year, about 10 percent ends up in the oceans creating the
massive garbage patches
in each ocean.
Made from Recycled Plastic!
Different products contain varying amounts, but anything we can do to encourage recycling is good. Creating a market for recycled plastic helps municipalities keep plastic out of landfills and creates jobs.
Made from Recycled Material!
Reusing manufactured material saves energy and chemicals used to manufacture those materials. Recycled paper, wood, fabric and plastic are all products that can be made into unique useful items.
Made from Renewable Material!
Products with this icon are made from other renewable material. Better than making products from new materials, is to use raw material that never runs out. Bamboo, flax, hemp and organic cotton can be harvested every year and can be grown with limited or no chemical pesticides and insecticides.
New plastic-like bags made with plant cellulose and will break down in landfills. Truly disposable products that don't end up blowing in the wind or polluting our rivers and oceans.
Made in the United States!
Transportation is a big part of the energy that is required to manufacture any product. Unfortunatly not enough everyday products are made here with American labor. Buying American will lower your carbon footprint.
Where products are manufactured, also help us qualify "Green" products. We will specify if a product is made in the United States or Canada. Being an internet storefront, we can't guarantee that any product is made near you, but we can find products that are made near our base in Hopkins, Minnesota. This helps prevent some environmental transportation costs. Short of being made near us, we prefer products that are manufactured in continental North America, but we also give weight to products that are Fair Trade Certified, and have one or more of the above requirements.
Other considerations are source materials and packaging. For a small e-retailer it is hard for us to dictate sourcing for our suppliers and manufacturers, but we do ask these questions and consider the answers. After all a timer switch made in China from plastic can still save a lot of electricity. We do however complain to our suppliers about the amount and type of packaging used to ship our products. FYI: We proudly reuse packaging from other sources for products we ship to you when appropriate. We Want to Hear from You We are in the development stage of our store, and want to hear from you. Please explore our site and let us know what you think and what we can do to better meet your needs. We also want to hear about the green products you want to buy - the products you love, those you have a hard time finding, and the products that make green living easier. Email us any time at
info@ourgreenhome.co
or call 952.491.0540.
Our mailing address is:
Our Green Home
141 16th Ave N.
Hopkins, MN 55343